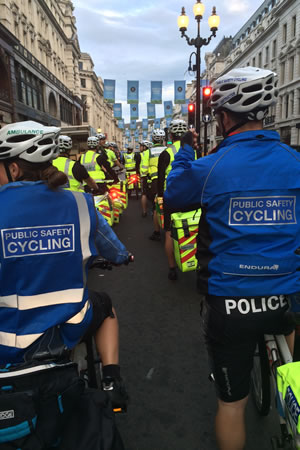 Public Safety Cycling
Public Safety Cycling (PSC) is the only network that supports those who use bicycles in the line of duty by providing cycle patrol training including national cycling standards to certified instructor training, networking, advice & workshops.
PSC developed and has delivered 'emergency services cycle training' for over a decade, certified instructor courses are held at our training school in the City of London and at various venues around the UK.
PSC is now leading the field of 'emergency services on bikes' and being the number one point of contact for many UK services. We have advised many organisations from the Association of Chief Police Officers ACPO on Police Cycle Standards nationwide to the provider of London Bike Hire Scheme on assessment centres and training for their new cycle workforce staff.
Our specific field of interest in Police, Ambulance & Fire cycle patrol has grown to thousands of 'public service cyclists' in the UK and is still growing. The success and popularity of bicycle patrol remains positive in the communities that they serve and in today's environmental and financial climate. PSC also delivers non emergency cycle training in the City Cyclist course.
Tel (Duty Mobile): 07971 480 684
Email: pscmbe@gmail.com